Ubuntu 12.10 'Quantal Quetzal' released
:
Ubuntu fans, be prepared to upgrade! Canonical, parent company of one of the most popular Linux distros available on Thursday released Ubuntu 12.10 "Quantal Quetzal" in
desktop
and
server
variants. It's labeled as a suitable alternative to Windows 8, coincidentally just before the
October 26 launch
of the latest consumer-oriented operating system from Microsoft.
On the desktop forefront, Ubuntu 12.10 "Quantal Quetzal" brings integration between cloud and desktop environments and integration with popular web-based applications, which Canonical claims is the next evolutionary step in the transition towards a cloud-based, multi-device world. The server variant includes the Folsom release of OpenStack, as well as deployment and management tools touted as a time-saving solution for developer teams that deploy distributed applications.
Desktop
Canonical CEO Jane Silber described the latest version of the popular open-source operating system as: "the operating system for the multi-device era" and as an "easier, faster alternative to competing desktop operating systems."
Canonical also integrated its cloud service, Ubuntu One, into the latest version of its open-source operating system, and is also available as a native application for Android, iOS, MacOS X (in beta at the moment) and Windows. Users get 5GB of free storage, and with new APIs synchronization features can be implemented by developers into apps.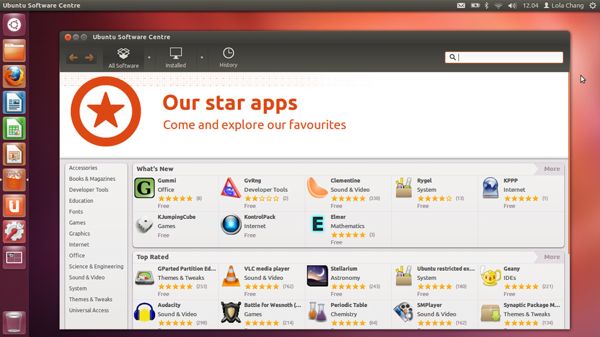 Searching files in Ubuntu 12.10 Dash now implies that users will get results from local storage as well as from online services from the likes of Google Drive. Dash also allows users to look for free and paid content from Amazon and Ubuntu One Music Store, but as some earlier reports have suggested, the former of the two has stirred some controversy with the inclusion of advertisements in Ubuntu.
Also to be expected is the Web Apps feature that is designed to make web-applications such as eBay, GMail, Facebook and Twitter available offline, without launching the browser, basically allowing said services to be used similar to desktop applications.
There is a new Previews feature that for instance allows to preview an album and receive a track listing with options to click through, download or purchase, as well as take a peek into Dash search results.
Aimed at businesses that want to offer virtualized desktop applications, users can now log into a Citrix, Microsoft or VMware desktop running on a virtualization server.
Server
Cloud builders get access to technologies from both Ubuntu and OpenStack, the latter being featured through Ubuntu Cloud Infrastructure. The two new components, Cinder and Quantum, offer block storage and a virtual networking API, respectively.
For enterprises that want to keep using Ubuntu 12.04 LTS, Canonical mentions that compatible versions of the latest OpenStack release can be deployed directly from its Cloud Archive.
Intel's Open Attestation (OAT) in the OpenStack environment is supported, and Ubuntu Server 12.04 is labeled as the first of its kind to support it. For security purposes, a crypto key is used to authenticate cloud images, which should bring an extra layer of security to deployments in the cloud.
Ubuntu's service orchestration tool Juju, which has a new graphical interface designed with time-saving in mind, is natively supported on OpenStack clouds running Canonical's own server operating system.
Ubuntu Server 12.10 together with OpenStack is touted to give a faster cloud service deployment and better cost-efficiency. According to Silber, "Ubuntu Server is the reference operating system for OpenStack," and "the fastest and easiest way to take advantage of the latest open cloud technology."